When it comes to apartment floor plans, second and third bedrooms are designed with economy of space in mind; and that's a good thing. These secondary rooms are often designed to create more space in the places you'll spend more of your waking hours in, like the living room, for example. Because space is at a premium, you'll want to find ways to really maximize the room in a big way, both visually, and practically. Here are a few of our favorite ways to make a smaller apartment bedroom look and feel much bigger than it may actually be!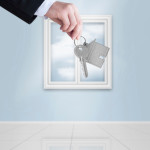 Undercover Storage: Keep the bedroom free of clutter by using under-the-bed storage modules, drawers and storage baskets. They'll allow you to keep off-season clothing, accessories, books and other small items out of sight, but readily available when you need them. These elements can be decorative—designed to show; or hidden away by a bed skirt.
Look Up: Opt for a bed with a simple, streamlined design and tall frame (like an open canopy top) or high headboard without a footboard. The bed's lines will draw the eye upward and create visual drama while keeping the look open and airy. Remember that a headboard doesn't have to be a furniture piece that's designed specifically for that purpose. Lots of interesting things make great "headboards," including a large framed piece of art, vintage door, a uniform row of framed art pieces, a removable wall mural, a long narrow shelf (or two or three rows), an interesting room divider screen, bookshelves, a large vintage sign, lattice or fence posts, mirrors or a curtain hung from the ceiling or mid-wall where a headboard would be.
Gallery Groupings: Instead of placing photos on dressers or bedside tables, hang them on walls instead, group together photos or artworks of different sizes and styles to create visual interest. Keep the look simple by choosing frames in just one or two finishes or colors so your pictures will all have a common element, no matter how different what's actually in the frames may be.
Double Up: Choose hardy and well-made furniture elements that are designed to do double-duty, like bedside tables with storage drawers or cubbies; a bench for the foot of your bed that opens up into a storage trunk for extra bedding or other stow-aways; or shadow-box wall-hangings where you can display knick-knacks and collectables somewhere other than table or dresser surfaces. Mirrored tables are popular right now and do double-duty in a small room by multiplying space and light. Speaking of light …
Shed a Little Light (or a Lot): Lighting plays a huge role in the visual size of a space; so consider adding a beautiful pendant light fixture on a dimmer switch so that you can control the amount of lighting in the room. Also, opt for sheer window hangings that let the sunlight in, making the space seem more airy. For added versatility and privacy, hang a double-rod and layer darker/opaque drapes in front of your sheers so that you can pull the darker drapes aside during the day and close them at night.